Alumni
Where Outstanding ALUMNI Get Started

---
Alumni News



ACA Alumnae Present to the State Board for Community Colleges

This past spring semester, Reynolds welcomed back two alumnae from the first two graduating cohorts of the Reynolds ACA. They took time out of their spring breaks at the University of Mary Washington and George Washington University to join us for a presentation to the State Board for Community Colleges. Read More.

Reynolds Alumna Encourages Students to Never Give Up on Their Dreams

Reynolds alumna Lynette R. Goode knows all about the many hardships that people can encounter while pursuing that American Dream. Although Lynette has enjoyed success as an author, motivational speaker and CEO of her own non-profit organization; she has encountered a litany of obstacles in pursuit of her goals and dreams. Read More.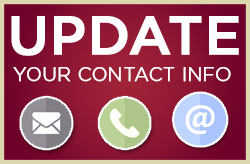 Learn about the latest Reynolds news as well as Alumni programs and benefits by following us on LinkedIn, Facebook and Twitter.
---
Upcoming Events
2017-2018 FAFSA Workshops
June 2017 - August 2017
Various Locations.

Interested in coming back to take a class? Know someone else who is but needs financial assistance? The Reynolds Financial Aid Office will be hosting several FAFSA Workshops this summer. Call 855-874-6682 for more info.
Kimberly Henley Miller: 4 Seasons
May 23, 2017 through August 3, 2017
PRC, The Conference Center Gallery

Come view the Kimberly Miller Art Show, 4 Seasons, at the new Conference Center Gallery. For more information or to schedule a visit, contact Karen Steele at ksteele@reynolds.edu.