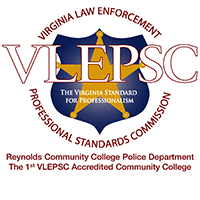 At Reynolds, a safe and secure campus is a high priority. Campus awareness and cooperation, along with guidance and support of a well-trained and professional police staff, help to ensure a positive learning environment. The Reynolds Police Department is the first and currently only Virginia State community college to be accredited by the Virginia Law Enforcement Accreditation Commission.
Reynolds Police Officers undergo the same state mandated training and certification as officers working in cities, counties, and state police. In addition, Reynolds Police Officers are Crisis Intervention Trained (CIT). Reynolds Police Officers have full authority to make arrest, conduct criminal investigations, and perform other police duties.
Reynolds Police Department also employs non-sworn security officers that provide non-emergency services, such as transportation and escorts.
All calls for service should go through our Campus Police Emergency Communications Center:

Emergencies
Ext. 5911 from an on-campus phone.
(804) 523-5911

Non-Emergencies
Ext. 5219 from an on-campus phone.
(804) 523-5219

Campus Police Locations
Parham Road Campus/Police Headquarters
Burnette Hall, Suite 100
Downtown Campus
1st floor lobby at the main entrance
Goochland Campus
Main Lobby of Building C-20
The Kitchens
Main Lobby
Services Include:
Response to calls for service
Patrol
Investigations
Emergency Management
Alert notifications system
Found property
Auto lockout services
Auto vehicle jumps
Rape Aggression Defense (RAD) training
ID/Parking decals
Escorts
DUI/Texting simulator
Clery and crime reporting
Crime prevention and awareness training
The department maintains close contact with other law enforcement agencies to include:
• The Virginia State Police
• Richmond Police Department
• Henrico County Division of Police
• Goochland County Sheriff's Department