MyReynolds
MyReynolds is a single login to access your web based Student Information System, Canvas and Student Email accounts with only one username and password to remember.
Student Information System (SIS)
SIS provides students with the ability to register for classes, pay tuition and fees, review financial aid, request a transcript, and view grades.
Canvas
Canvas is an online course management system used for distance learning and traditional classes.
Reynolds Email
Reynolds students will have a college Gmail account. You can access your account through MyReynolds.


Need a computer?
Reynolds provides Campus Computers on the Parham Road, Downtown, and Goochland Campus for student use.

Before Logging In for the First Time
Before logging into MyReynolds for the first time, you must:
Retrieve your MyReynolds Username and SIS EmplID
Create your password
Create your five security questions and answers.
Logging in to MyReynolds
After you have retrieved your Username you can log in to MyReynolds.
In a web browser, visit to MyReynolds
Enter your Username into the My Username field.
Enter your password into the My Password field.
Click the Sign In button.
MyReynolds Applications
After you log in, you will see a screen (see sample below) showing the list of resources you have access to. Click the name of the resource that you'd like to access.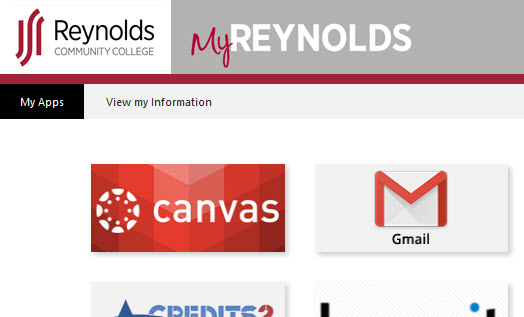 Logging out of MyReynolds
To protect access to your accounts be sure to Sign Out of MyReynolds when you have finished using your accounts.

Forgot your Password?
If you should forget your password you can create a new password using the Reset your password feature. If you have forgotten both your password and the answer to your security question you may call the Information Center at 804-371-3000 for assistance.